Posted by Tom's Tumbler on Nov 11th 2021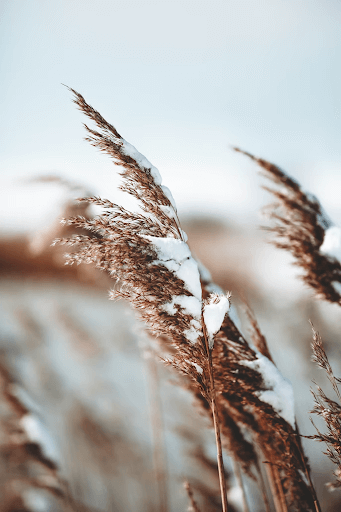 After a successful trimming season, it's important to store your post-harvest equipment properly for the winter. Leaving equipment exposed and unused can cause it to degrade and function improperly. But what are the best practices for stainless steelcare and maintenance, especially when it comes to your bud trimmer? How do you ensure the quality of your trimming machine for years to come? We're here to answer all these questions and more as your tumble trimming experts.
Clean Your Bud Trimmer
An entire season of bucking and de-leafing buds can cause a lot of buildup and residue on your tumbler. Putting a dirty machine into storage is not a wise move because resin can dry and cake up on your equipment, making it difficult to use. It can also crack the plastic funnel flow bag if not cleaned off. When it comes to stainless steel care and maintenance, it's important to invest the time required for deep cleaning. A simple wipe down of the frame with Tom's Resin Remover and a rag takes only a few minutes. It will save you money in the long run and keep your equipment working for far longer.
How to Clean Your Tumbler
The tumbler itself is easy to disassemble, which you should do so before cleaning. After you have disassembled your tumbler, you are likely to notice residue on various pieces. This residue is the kief of the bud you worked with over the harvest season. While Tom's Tumble Trimmer makes harvesting and collecting kief easy, this particulate will still accumulate over time in the nooks and crannies of your Python or tumble trimmer system.
While rubbing alcohol is known to help reduce the resin buildup associated with harvesting, Tom's Resin Remover Cleaner and Lubricant is specially formulated for smooth stainless steel care and maintenance. Our resin remover features an organic-based solvent that removes resin quickly and easily. Its plant-based oils are safe to use, and there are no chemicals or harmful solvents to worry about. It also doubles as lubricant for your zippers.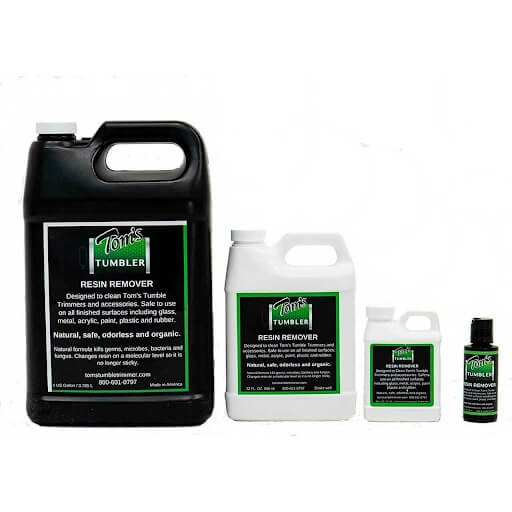 Using Tom's Resin Remover in the care and maintenance of stainless steel tumbler parts will keep your equipment running smoothly for years to come.
How to Wash the MeshNets
When it comes to the trimming process, your MeshNets do a lot of work and get exposed to a fair amount of resin and kief. Sticky nets can become dry and hard over the winter and may need replacement as a result. If you want to guarantee multiple seasons of use with your MeshNets, it's critical to wash them properly before storage.
MeshNets are machine washable. Simply put them through a cold water cycle to remove the resin and debris, and hang them to dry. Just plan accordingly when you are disassembling your equipment. For maximum efficiency, let your MeshNets dry while you care for and maintain the stainless steel and PVC parts of your tumbler.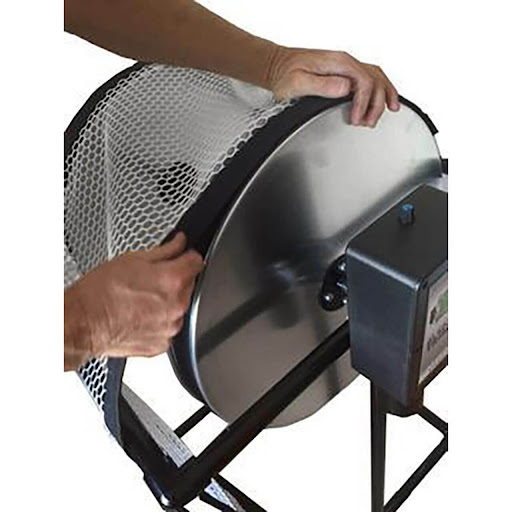 Storing Your Bud Trimmer
After cleaning your equipment, you should prepare it for storage. At this point, consider your available storage space. If you do not have a lot of room for standing storage, you can keep the parts disassembled. Think about using labeled containers to keep the parts protected from the elements and dust. Just make sure you have assembly instructions stored with them.
If you have the space to store the standing tumbler, you can store it fully assembled. Assuming you've properly cared for and maintained the stainless steel equipment, this will allow you to roll the tumbler out at the beginning of harvest season and put it back to work without the need for reassembly.
If you want to go this route, you'll still need to protect the tumbler from dust and the elements. Tom's Trimmer Cover provides effective coverage whether you are storing inside or outside. The cover protects your tumbler from water, dust, chemicals, and any other pollutants that could potentially wreak havoc. Whether your climate is dry or humid, your post-harvest equipment will stay safe. Just be sure to order the right size for your model. A properly fitted cover is key for optimal trimmer frame, motor, and stainless steel care and maintenance.
Your Year-Round, Post-Harvest Solution
Caring for and maintaining your stainless steel tumble trimmer is the best practice for growers of any size. With proper maintenance, including cleaning and storage, our tumble trimmers are sure to deliver unbeatable results for many seasons to come.